Passengers
See the productions by category: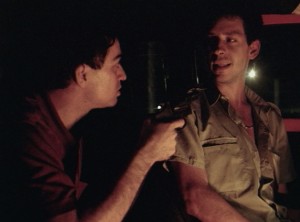 (35 mm, 9 min, color, 1987)
(1.33, Mono Optical Sound)
A typical criminal. A typical taxi driver. A typical route through the night of Porto Alegre, from the bus station to a deserted street. But at the time of the crime, the driver doesn't react as he should. Meanwhile, on TV, Brazilian Minister of Justice make a speech against violence.
Credits
Written and directed by: Carlos Gerbase and Glênio Póvoas
Producer: Luciana Tomasi
Cinematography: Alex Sernambi
Art Direction: Marta Almeida
Soundtrack: Heron Heinz and OsReplicantes
Production Manager: Luciana Tomasi
Editing: Giba Assis Brasil and Alex Sernambi
Main Cast
Zé Adão Barbosa (The Passenger)
Marcos Carbonell (The Taxi Driver)
Awards
– 1º Prêmio Iecine Governo do Estado/RS (Brazil, 1985-86):
Production Support
– 15º Festival de Gramado (Brazil, 1987):
Best Short from Rio Grande do Sul and Best Editing
Reviews
"The realistic tone continues in Passengers, where a traveler takes a cab in the bus station of Porto Alegre and, at the end of the journey, tries to rob the driver. (…) The editing is agile and the film has something to propose: a subversion of values ​​by the solidarity of the oppresseds."
(Tuio Becker, CADERNO DE CRÍTICA/FCB, May 1989)