Iuli Gerbase's first feature film reflects a funhouse-mirror image of our present lives.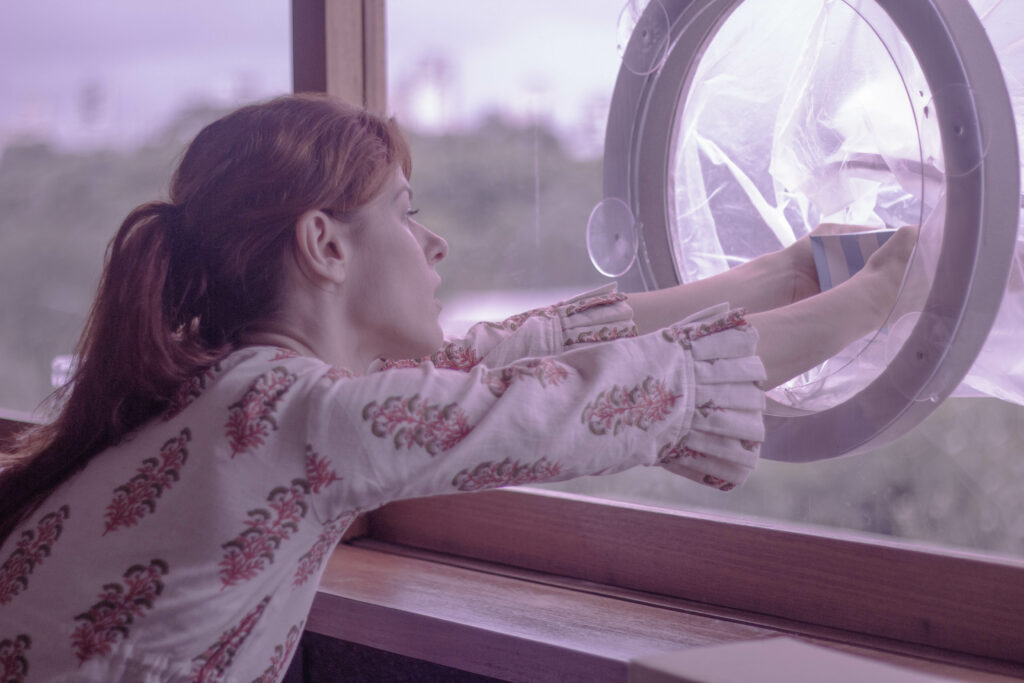 By Claire Shaffer
Jan. 13, 2022, 7:00 a.m. ET
Stop me if you've heard this one before: A deadly phenomenon has spread across the globe and forced all of civilization into an extended quarantine. Fights break out in grocery stores and online. Video chat becomes the center of human communication, playing host to everything from work meetings to birthday parties. Many people find that their partners and children are the only souls they'll keep company with for the next several months.
This is the premise for "The Pink Cloud," a Brazilian domestic drama with a helping of science fiction that, remarkably enough, was conceived of in 2017 and filmed in 2019. Directed by the newcomer Iuli Gerbase, it stars Renata de Lélis and Eduardo Mendonça as two 30-somethings, Giovana and Yago, who have a one-night stand and wake up the next morning to find a mysterious pink cloud hanging over their city, killing anyone who breathes it for 10 seconds. The government orders a nationwide lockdown, and the two of them, alone together, are suddenly forced to reckon with a potential relationship.
Like other works of prescient sci-fi, "The Pink Cloud" forecasts an eerie funhouse-mirror image of our present lives. FaceTime becomes the main channel for social gatherings; citizens are issued government-provided care packages that feel insufficient; Giovana's friend, trapped alone in her home, experiences symptoms of depression and languishing.
The film's pacing often matches that static sensation, to a frustrating degree. Even as the lockdown accelerates intimacy and conflict between the protagonists, their actions feel inconsequential compared with the greater world outside. "The Pink Cloud" is at its most perceptive when it acknowledges this level of powerlessness, like when a hopeful conclusion to the disaster turns out to be a false alarm. Outside, the cloud floats along, with no dissipating end in sight.
The Pink Cloud
Rated R for nudity, brief language and pandemic-related despondency. In Portuguese and English, with subtitles. Running time: 1 hour 45 minutes. In theaters.
Fonte: https://www.nytimes.com/2022/01/13/movies/the-pink-cloud-review.html