Yonlu
See the productions by category: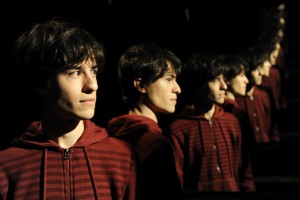 (HD, 90min, Color, 2017)
(16: 9, Dolby Digital sound)
Based on the true story of a 16-year-old boy who, with the help of the internet, conquered the world with his talent for music and art. Fluent in five languages, Yonlu had a network of virtual friends on every continent. No one suspected, however, that he also participated in a forum for potential suicidals.
Credits
Written and Directed by: Hique Montanari
Producer: Luciana Tomasi
Editing: Alfredo Barros
Cinematography: Juarez Pavelak
Art Direction: Iara Noemi and Gilka Vargas
Production Manager: Taty Behar
Sound Design: Gabriela Bervian
Soundtrack: Nando Barth
A coproduction with Container Filmes
Main Cast
Thalles Cabral (Yonlu)
Lorena Lorenzo (Luana)
Leonardo Machado (Father)
Nelson Diniz (Psychologist)
Liane Venturella (Mother)
Mirna Spritzer (Reporter)
Awards
– Mostra Internacional de Cinema de São Paulo (Brazil, 2017):
Abraccine Award (Brazilian Association of Film Critics) for Best Brazilian Film
– Festival Internacional de Cinema da Fronteira (Brazil, 2017):
Best Film and Press Award
– Madrid International Film Festival (Spain, 2017):
Nominations for Best Foreign Film Actor and Best Foreign Film Director
Festivals
19° Festival do Rio – Seleção Oficial Mostra Geração (Brazil, 2017)
25º FIC Valdivia – Festival Internacional de Cine de Valdivia (Chile, 2018)
12ª Santa Maria Vídeo e Cinema (Brazil, 2018)
3º Santos FilmFest – Festival de Filmes de Santos (Brazil, 2018)
III Mostra de Cinema Ofcine e I Cinemário de Rio Grande (Brazil, 2018)
Reviews
"The proposal of Yonlu isn't to create a conventional biopic but rather a 'reinvention' based on terrible facts, mixing scenes with actors and animation – made by Osso Filmes from illustrations by the real Yonlu –, gathering elements of different languages, as video clip, experimental cinema and documentary film. (…) Hique Montanari's daring and correct choice, which, with this, managed to involve the audience from indignation to lament, understanding the drama of that young boy and showing, almost as an appeal, that depression is not something to be dismissed, that it is a serious illness and that it needs specialized treatment and double attention of family and friends."
(Kal J. Moon, POLTRONA POP, 10/11/2017)
"The direction of Hique Montanari was happy in many ways, especially in the way it appropriates of the particular universe of the protagonist, respectfully taking advantage of all his inventiveness. (…) Yonlu is a film with a creative aesthetic, daring and poetic. He treats a sensitive subject in a respectful way, and must (in this humble opinion) be viewed by the whole family. Not only for entertainment, but also for the channel of dialogue it can develop."
(Lorena Freitas, WOO! MAGAZINE, 10/16/2017)
"So poignant is the narrative, based on a real event, as the director's conduct is correct in relation to what it means. (…) Yonlu is an allegory of our failure, of our existential impossibility as a country, even before its democratic beginning. A deeply pessimistic film, an allegory of melancholy. We are sad, but a bit of expressive beauty is yet to be shown before it is over."
(Rosane Pavam, ABRACCINE WEBSITE, 11/17/2017)
"It's a smart decision to focus on Yonlu's bedroom. When the film leaves it, is to delineate a delirious aesthetic, without compromise with a realistic narrative. Frames and lighting are contaminated by the depressive lyrics of the songs that the boy has recorded. Another attempt to prevent cheap sentimentality is to narrow the character's pragmatism in suicide planning. Thus, your few moments of delusion turn into sequences of tension that work well."
(FOLHA DE SÃO PAULO, 08/30/2018)
"Yonlu is a film to be seen with eyes wide open. It doesn't deliver a common drama of a character going through depression and going deeper and deeper into his artistic aspirations, but a playful and disturbed vision of a teenager who did not find a hug when more needed, but a push into an unbroken chasm – as the psychologist says in the film."
(Ricardo Rocha, CCINE 10, 08/30/2018)
YONLU Trailer: