Greens Years
See the productions by category: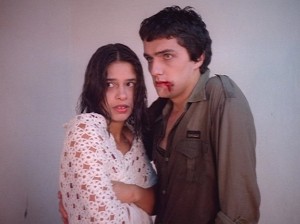 (35 mm, 91 min, color, 1984)
(1.33, Mono Optical Sound)
Three days into the life of a college class in 1972. Nando dates Soninha, but she seems interested in everyone around her. Big Roberto presents the prom night. Teco is interested in Rita. Dudu edits a gossipy newspaper. Pedro is the goalkeeper of the class team and is in love with the teacher. How long does it take to move from adolescence to maturity? A weekend, a few years, or a lifetime? Based on the book by Luiz Fernando Emediato.
Credits
Directed by: Carlos Gerbase and Giba Assis Brasil
Executive Producer: Sérgio Lerrer
Screenplay: Alvaro Luiz Teixeira
Cinematography: Christian Lesage
Art Direction: José Artur Camacho and Marlise Storchi
Soundtrack: Nei Lisboa and Nelson Coelho de Castro
Production Manager: Rudi Lagemann
Editing: Alpheu Ney Godinho
Main Cast
Werner Schünemann (Nando)
Marcos Breda (Teco)
Luciene Adami (Soninha)
Márcia do Canto (Candida)
Marta Biavaschi (Rita)
XalaFelippi (Marieta)
Marco Antonio Sorio (Robertão)
Sérgio Lulkin (Pedro)
Zé Tachenco (Dudu)
Biratã Vieira (Leopoldo)
Haydée Porto (Bárbara)
Awards
– 12º Festival de Gramado (Brazil, 1984):
Revelation Award
– Federation of Cineclubs of Rio de Janeiro (Brazil, 1985):
São Saruê Especial Award
– 2º Festival do Cinema Brasileiro de Caxambu (Brazil, 1985):
Best Screenplay and Best Cast
Reviews
"The film defines itself by the sincerity with which it gives its message. It's sometimes touching the way he dives in search of a recent past (the early 1970s), shedding light on the history lived by the filmmakers themselves. In the middle of his twenties, Giba and Gerbase venture to look into the past and, through that look, to reflect on their world."
(Tuio Becker, FOLHA DA TARDE, 04/10/84)
"On the screen, Greens Years is relaxed and playful as its open credits. The joking tone widens when the movie itself starts. (…) Funny and light, the movie doesn't look like a movie, showing a set of characters that occasionally pass before the eyes of the audience."
(José Carlos Avellar, JORNAL DO BRASIL, 04/12/84)
"You can feel the unity of the team, from the production itself (the film would have cost only $ 50,000, incredibly cheap even by Brazilian standards) to every stage, including the work of the actors. Under these circumstances, the directors were able to create countless funny and dramatic situations."
(Nelson Hoineff, VARIETY, 05/02/84)
"You go to see Green Years for the first time just to help the filmmakers. After all, they're people from here, who made the film without money, all these things. So you fake the first laugh, just to help the guys. The second laugh appears by surprise. The third,by enthusiasm. The shortcomings of the production are evident, but with ten minutes of film you are delivered to its charm. But you'll really like it the second time."
(Luis Fernando Verissimo, ZERO HORA, 05/22/84)
"Greens Years is real cinema. In everything, from editing to photography, from the use of music to the direction of the actors, everything emanates this knowledge of the basic rules of the movie art."
(Hélio Nascimento, JORNAL DO COMÉRCIO, 05/29/84)
"'DeuPraTiAnos 70' (…) was the movie of hope, 'Inverno' was the film of resistance. (…) Now, Green Years is the dream. (…) Even at the end of each of the films there's a thematic coherence. They talk about the future, about the continuity of the struggle. In the tired words of Werner Schünemann in 'Inverno', in the streets crossed by Pedro Santos in 'Deu Pra Ti', and in the lyric ending of Greens Years. This is our cinema. The one made by young poets of daily life, rain, cold and fog."
(Goida, ZERO HORA, 06/01/84)
"In the end, we are left with the individual drama of Nando who, in vain, tried to conquer the heart of Soninha. His sincere search for love is not only moving, but it appears as a possible alternative among so many youthful encounters and disagreements, the background of which is the melancholy landscape of the countryside of Rio Grande do Sul. (…) Greens Years is marked by the Southern accent and doesn't seek to disguise its artisanal origin. Yet it's no more than an absolutely sincere portrait of a generation that has never been reflected on the screen."
(Maria Lúcia Froes, FOLHA DE SÃO PAULO, 04/25/86)
"Prepare yourself, hearts: it will hurt. Because nostalgia always hurts. Even more here, on this trip back to the early seventies, in the sweet company of this group that, like me, loved the Beatles and the Rolling Stones, (…) smoked a joint and believed in peace and love. In Greens Years, the nightmare only insinuates itself, in the character of the teacher. The rest is dream. That's what we were. Boys and girls who liked to date, to play ball, to have fun in the classroom, to dance, to chat, to laugh. The film reconstitutes this greenness with moving simplicity. (…) Bring, from the South of Brazil, an old, beautiful, nostalgia to make you cry."
(José Márcio Penido, O ESTADO DE SÃO PAULO, 04/25/86)
"The script of Greens Years is much more complex than the film. Directors Gerbase and Assis Brasil removed from the movie all the violent and political content that the story contained. (…) They cut all scenes of violence in prison and a whole character, a young man who was shot to death at the end. It's a shame. (…) It was a nice film, but too naive. The Funny, it's just this naivety, this coolness, that makes the movie delightful to anyone who sees it without having known the true story."
(Luiz Fernando Emediato, A GAZETA, 09/15/86)