Tolerance
See the productions by category: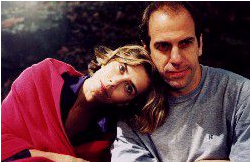 (35 mm, 110 min, color, 2000)
(1.66, Dolby SR Optical Sound / Dolby Digital Sound)
Júlio and Márcia decided that fidelity would not be the basis of their marriage. Nothing of the crimes of passion, irrational quarrels, nor divorces. The couple wanted only to live, to love, to raise their daughter Guida and to remain free. He is a journalist, she is a lawyer. At first idealistic, they end up undergoing a "normal" life, but this didn't include overturning the agreement on possible extramarital affairs. Márcia tells Júlio that she had sex with a client. Even annoyed, he accepts, exercising his tolerance. Shortly after, Júlio meets a friend of his daughter, who seems to be the embodiment of his most secret desires.
Credits
Directed by: Carlos Gerbase
Executive Producers: Luciana Tomasi and Nora Goulart
Screenplay: Carlos Gerbase, Jorge Furtado, Giba Assis Brasil and Alvaro Luiz Teixeira
Cinematography: Alex Sernambi
Art Direction: Fiapo Barth
Soundtrack: Flávio Santos, Marcelo Fornazier and Carlos Gerbase
Production Managers: Denise Garcia and Marco Baioto
Editing: Giba Assis Brasil
Distribution: Columbia Pictures of Brazil
Main Cast
Maitê Proença (Márcia)
Roberto Bomtempo (Júlio)
Maria Ribeiro (Anamaria)
Nélson Diniz (Teodoro)
Ana Maria Mainieri (Guida)
Werner Schünemann (Juvenal)
Awards
– 1° Prêmio RGE/Governo do Estado do RS (Brazil, 1999):
Production Support
– 1º Prêmio APTC-RS (Brazil, 2000):
Best Film, Best Direction, Best Screenplay, Best Editing, Best Music, Best Sound and Best Art Direction
– 5º Festival de Cinema Luso Brasileiro de Santa Maria da Feira (Portugal, 2001):
Revelation Award
– 5th Festival of Brazilian Cinema of Miami (USA, 2001):
Best Actor (to Roberto Bomtempo)
– 24º Festival do Novo Cinema Latino-Americanode Havana (Cuba, 2002):
Popularity Prize (Best Movie according to the audience)
Reviews
"Gerbase's main feat is that it has competently and uniquely interwoven its various strengths: sex, politics and crime. (…) This mechanism of continual destruction and reconstruction of the 'real' makes Tolerance a stimulating exercise of cinematic narration, which vivifies and problematizes all its dimensions: that of police adventure, that of studying customs and, mainly, of a balance of generations."
(José Geraldo Couto, FOLHA DE SÃO PAULO, 10/23/2000)
"From the matrimonial drama of the beginning, Tolerance becomes an efficient suspense, in which Gerbase uses non-linearity. Worth the ticket."
(Stefan Ligocki, ZERO HORA, 10/31/2000)
"It's almost three movies in one. It starts out as a modern comedy of manners, turns into a heavy marital drama and ends up as a well-engineered suspense. (…) The result is a skillful blend of ingredients. Tolerance can be unpretentious without falling into banality."
(ÉPOCA MAGAZINE, 11/06/2000)
"Soon the audience realizes that the film will not remain only in the plane of ideas and reflections. On the contrary, it goes beyon and beyond, always with surprises and plot twists, as should happen in a good police drama. (…) Competent and efficient, the film involves and holds the attention of the viewer. Another beautiful Brazilian work that deserves to be seen on the big screen."
(Celso Sabadin, CINECLICK, 11/06/2000)
"The film, directed by Carlos Gerbase (who, as a good Gaucho, is also a writer and has just released a new book), is very hype. It has couples exchange, a rock band formed by girls. It could be filmed in any Brazilian metropolis, except for some details. Even Maite Proença, who is from São Paulo, learned to call a policeman a 'Brigadiano', how they do in Porto Alegre. And the character of Roberto Bomtempo works with computer graphics and, at one point, appears drinking chimarrão, a traditional beberage from Rio Grande do Sul."
(João Gabriel de Lima, VEJA MAGAZINE, 11/08/2000)
"Everything fits, everything is justified, quality that every jigsaw-puzzle-script pursues, but almost none attain. Tolerance is exemplary in execution and, most important, capable of adding commercial appeal and intelligence."
(Jaime Biaggio, O GLOBO, 11/10/2000)
"Tolerance is a very well done film. Implode the concept of genre, because it travels through several of them, which reveals that another of Gerbase's concerns, besides (critically) seeing the ideals of the 1968 generation, is to discuss language itself."
(Luiz Carlos Merten, AGÊNCIA ESTADO, 11/10/2000)
"For a long time the national cinema did not produce an erotic thriller, and this is a good one. Carlos Gerbase's Tolerance starts as a marital drama, but gradually captures the attention of the viewer by moving into suspense."
(Elaine Guerrini, AGÊNCIA ESTADO, 11/10/2000)
"Tolerance is a modern film that addresses issues directly related to the country, such as the incompatibility between the discourse of justice and social reality, as well as universal themes, such as the new order imposed by the phenomenon of virtuality. In a world where the real is increasingly manipulative, tolerance risks becoming a utopia. Too bad for civilization."
(Ricardo Cota, JORNAL DO BRASIL, 11/10/2000)
"Carlos Gerbase and all the team from Casa de Cinema made a thought-provoking and modern film. Tolerance can at the same time be ironic and frightening, showing much of our current reality in behavioral and political terms."
(Goida, ABC DOMINGO, 11/12/2000)
"At all times the film puts in check justice, professional ethics, fidelity in marriage and so on. The tolerance, in the case of the characters, reaches impressive degrees of elasticity. The director, who also signs the script with Jorge Furtado, Giba Assis Brasil and Álvaro Teixeira, makes a parallel with the Country and the population today. And hit it right."
(Alessandro Gianinni, ISTOÉ GENTE, 11/13/2000)
"There are several reasons why Tolerance is a prestigious film. Gerbase approaches the classic forms of narrative, but doesn't refuse to be modern. And his film has the first and essential virtue: seeks to express itself through the observation of authentic characters. Here is an account that seeks to speak of the world by looking at the creatures that inhabit it."
(Hélio Nascimento, JORNAL DO COMÉRCIO, 11/17/2000)
"Who expected Carlos Gerbase's first cinematically perfect feature will have no surprise with Tolerance. To say that it is the best film made in Rio Grande do Sul would not be enough – after all, we don't have so many films like that –, but I do not fear to say that, more than this, Tolerance seems to me the best film (as a cinematographic product ) released in Brazil in recent years."
(Nei Gastal, BAGUETE DIÁRIO, 11/17/2000)
"Tolerance had a lot of creative references to classics. The story of the murder, committed by Maitê's client, changes with each version, like the beautiful 'Rashomon' by Kurosawa. Bomtempo is caught with the murder weapon, as Cary Grant in 'North by Northwest'; and blood streaming down the sink is a clear reference to the final part of the shower scene in 'Psycho'. (…) In all, an intelligent diversion, which pleases and makes one think."
(Marcelo Lyra, JORNAL DA TARDE, 03/18/2002)
TOLERANCE Trailer: