Sex & Beethoven - The Reunion
See the productions by category: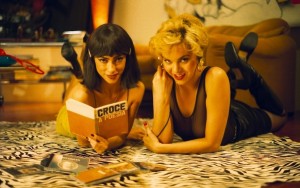 (35 mm, 16 min, color, 1997)
(1.33, Mono Optical Sound)
Two heterosexual (but not much) boys invite two naive (but not much) prostitutes for a night of sex. In the preliminary conversations, a little poetry, a bit of philosophy and giant doses of cavalry of sexuality, everything with Beethoven in the background. But when it comes the time to have sex, the truth appears.
Credits
Written and directed by: Carlos Gerbase
Executive Producers: Luciana Tomasi and Nora Goulart
Cinematography: Alex Sernambi
Art Direction: Fiapo Barth
Soundtrack: Ricardo Severo
Production Manager: Marco Baioto
Editing: Giba Assis Brasil
Main Cast
Pedro Santos (Peter)
Marco Antônio Sorio (Tigrão)
Luciene Adami (Dora)
Daniela Schmitz (Ivete)
Awards
– 4º Prêmio Iecine Governo do Estado/RS (Brazil, 1995):
Production Support
Reviews
"Sex & Beethoven – The Reunion, directed by Carlos Gerbase, is an erotic-intellectual spree between two friends and two prostitutes invited to a party. Anarchic, libertarian, well in the style of Gerbase, one of the talents of the South."
(Luiz Zanin Oricchio, O ESTADO DE SÃO PAULO, 07/23/97)
"Who thinks that the Brazilian cinema is very prudish lately should look for Sex & Beethoven – The Reunion. At the Film Festival of Gramado, the film left a lot of people perplexed by its obscenity, announced from the first dialogue, to the point that few realize that it's a comedy of customs absolutely in tune with the urban culture of our time."
(José Geraldo Couto, FOLHA DE SÃO PAULO, 08/25/97)