Bio
See the productions by category: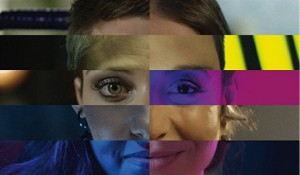 (HD, 105min, Color, 2017)
(16: 9, Dolby Digital Sound)
Born in 1959 and deceased in 2070, a man has a special pathology that does not allow him to lie. After his death, friends and family members gather to reminisce about special events they spent together, and put together an interesting portrait of the man's biography.
Credits
Written and directed by: Carlos Gerbase
Producer: Luciana Tomasi
Editing: Milton do Prado
Cinematography: Bruno Polidoro
ArtDirector: Bernardo Zortea
Production Manager: Marilia Garske
Sound Design and Original Sountrack: Bunker Sound Design
Main Cast
Maria Fernanda Cândido (Exo-biologist)
Sheron Menezzes (Inhabitant of Encelado)
Maitê Proença (Daughter – Medic)
Marco Ricca (Psychologist)
Werner Schünemann (Professor)
Bruno Torres (Son – Neuropsychiatrist)
Awards
– 45º Festival de Cinema de Gramado (Brazil, 2017):
Best Film (Popular Jury), Best Sound Design and Special Jury Award for Direction
Festivals
9º Festival Internacional de Cinema da Fronteira (Brazil, 2017)
19º Festival do Rio – Mostra Hors Concours (Brazil, 2017)
41ª Mostra Internacional de Cinema de São Paulo – Mostra Brasil (Brazil, 2017)
21º Festival Internacional de Cine de Punta del Este – Mostra Panorama Internacional (Uruguay, 2017)
9º Festival Internacional de Cinema da Fronteira – Mostra Competitiva de Longas (Brazil, 2017)
12° Bienal de Curitiba – Mostra Circuito Brasileiro (Brazil, 2017)
Reviews
"The narrative about the character who lived 101 years, had four families and made important scientific discoveries is a false documentary, which has a script both ironic and critical as the times go chronologically in the plot. It's a very creative production, very different of everything that has already been done in the cinematography of Rio Grande do Sul, with praiseworthy editing work for Milton do Prado, among other top professionals of our cinema that Prana Films has called for this film."
(Adriana Androvandi, CORREIO DO POVO, 08/25/2017)
"It takes a while to get into the story, but when you do, fiction takes you on a super-interesting narrative adventure. Very well-photographed, and with faces of formidable women as narrators, like Tainá Müller, Maria Fernanda Cândido and Maite Proença. (…) It was made to be watched again, and perhaps more than once."
(Luiz Carlos Merten, O ESTADO DE SÃO PAULO, 08/26/2017)
"The film is an epic of nostalgia from the past to the science fiction of the future era, from 1959 to 2070. It is an unpretentious and simple exercise, without being simplistic. On the contrary. The conduction arrests the spectator for the most precious, essential and intrinsic quality of cinema: the curiosity to know the stories. We are moved to gossip, books read and movies watched. It's our addiction. (…) Definitely, it's a work of art that still believes in humanity, respecting its idiosyncrasies and that made actor Matheus Nachtergaele thrill as 'a poetic and hopeful film'."
(Fabricio Duque, VERTENTES DO CINEMA, 12/11/2017)
"Written and directed by Carlos Gerbase, Bio is an intense and fascinating study on life. And to do so, the filmmaker has created a life. Not literal, but cinematographically. The curious proposal of the film is the documentation of the existence of a man at the same time very common and very special. A character without a fictitious name, and who never appears. Everything we will know about him will be revealed to us through testimony from those who have lived with him. Testimonies that make us think, laugh, cry… like life itself, by the way."
(Celso Sabadin, PLANETA NA TELA)
Click to download BIO's pressbook.
BIO's Teaser Trailer: