Very Private Classes
See the productions by category: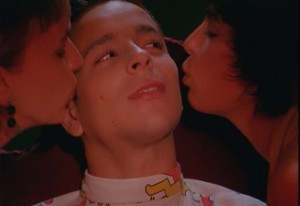 (35 mm, 10 min, color, 1988)
(1.33, Mono Optical Sound)
An 18-year-old boy is required to attend a class to receive his father's inheritance. In the first lesson, a kiss. In the second, a woman's body. In the third, the sexual act. Other lessons will come, and the boy will still have to face the final exam.
Credits
Written and directed by: Carlos Gerbase
Executive Producer: Luciana Tomasi
Cinematography: Alex Sernambi
Soundtrack: Os Replicantes
Production Manager: Luciana Tomasi
Editing: Alex Sernambi and Carlos Gerbase
Main Cast
Edu K (The Student)
Nora Prado (Teacher)
Luciana Tomasi (Teacher)
Festivals
Festival de Gramado – Mostra Gaúcha (Brazil, 1988)
Awards
"Avoiding the traditional themes of Brazilian short films, Very Private Classes invests in eroticism in a rock'n'roll mood. (…) Produced independently, is another evidence that it's possible to make films without the interference of Embrafilme, with great technical and artistic success in Rio Grande do Sul."
(ZERO HORA, 04/15/88)